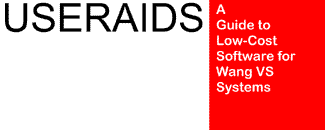 Introduction
---
Return to First Page
---
Purpose of this manual
This manual is intended for VS system users, programmers, and administrators that wish to know more about that amorphous group of files known as USERAIDS. A ragtag collection of programs, subroutines, documentation, and demonstration systems, USERAIDS were largely developed by Wang personnel in the early days of the VS and rarely touched since. The better programs have found their way into the list of Wang- supported utilities; the others have languished without much attention or interest. Without much information on their origin or use, the intrepid user must resort to detective work and supposition to discern the function and applicability of each.

The driving force behind my acceptance of this challenge was my personal curiosity. What are all those files? How many could I delete without effect? How do they compare with expensive utilities from commercial vendors? Do they even work?
History of the book
USERAIDS: A Guide to Low-Cost Software for Wang VS Systems grew out of my work in the mid-1980s as a columnist for Access to Wang and Wang user group member. Research began in 1987 and the book appeared in 1989, enjoying modest international success. It disappeared two and a half years later with the bankruptcy of Data Base Publications, the publisher of Access at that time.

The original work was composed on a single-diskette WangWriter, converted to Wang PC Word Processing, and submitted electronically to the publisher in text format. The text was converted to hypertext (HTML) using a combination of manual editing and classic Unix text manipulation tools (sed, grep, cut, paste, etc.).

The completed HTML files languished in a ZIP archive on the site until expanded and published again in August 2021.
Navigating through the material
This book was planned to answer several questions:
What are all these files? Which do I really need?

How do I use them?

How do I find the tool that solves my problem?
As I pondered these questions it became clear that the material had to be accessible from several directions. Accordingly, I have created sections that present the information in response to each of these needs:
Alphabetical List of File Descriptions: lists 363 known USERAIDS in alphabetical order, describing them and noting any known dependencies.

Documentation for Selected Utilities: in-depth information on 96 of the programs shown in the alphabetical listing. Includes user instructions, programming information and examples.

Cross-Reference by Program Function: programs grouped by function. Assists in finding a tool for a particular purpose.
The multiple points of access to the material allows you to browse for information informally or zero in on a solution immediately, depending on your needs and desires.
Comments
I encourage your comments and suggestions on this material. Please send them to me at dennis@dsbarnes.com.
---
Return to First Page
Modified 8/25/2021