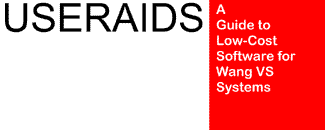 Frequently Asked Questions
---
Return to First Page
---
What are USERAIDS?
USERAIDS are programs, subroutines, documentation files, and other items that assist in programming or operation of VS systems. Most provide unique and important abilities for system users, administrators, and programmers. There are USERAIDS directed to all types of users.
Where did USERAIDS come from?
Although some were submitted by users, most were written by Wang personnel between 1977 and 1982. Most lack the polish computer users expect from system software; accordingly, all but a handful have remained unsupported. The quality of these items ranges from outstanding (CREATE, DISPRINT) to astoundingly stupid (most of the games).
What can USERAIDS do for me?
Users credit USERAIDS with enhancing the VS environment by providing solutions to common user problems. Commercial products may be more powerful or easier to use, but many find USERAIDS meet their needs. Many USERAIDS are still viable despite major changes to the Wang operating environment.

There are many different tasks that can be performed by USERAIDS. Examples include:

Create, maintain, or document program source code

Enhance the effectiveness of the Wang REPORT utility

Log the system resources used by a program

Display all files in a library

Convert screen print files into Word Processing documents

Report on the largest files in the system

Manage print files

Convert tapes, disk files, and programs from another environment to VS format

List the contents of program files

Create interactive programs from rough specifications

Display a Word Processing document from a data processing terminal
How are USERAIDS different from other Wang software?
Most USERAIDS were created at a time when a user need was perceived and no solution was present. In many cases, commercial software has met those needs; in others, the situation has not changed. For example, there are many commercial products to analyze file sizes and compute disk usage, but none as simple and effective as the single-screen display of DISKUSE.

Many USERAIDS interact with Wang system utilities, simplifying their use. For example, the DISPRINT utility uses the Wang DISPLAY and the COPYWP utilities but requires far less effort to use.
Where can I get them?
Long ago, Wang personnel often "donated" a library of USERAIDS with every VS installation. In the early 1980s, the International Society of Wang Users (ISWU) took over their distribution, to be replaced by the United States Society of Wang Users (USSWU) later in the decade. Since the demise of USSWU in 1995, there has been no normal distribution method until the International Wang User Group in England resumed distribution in 1996, but IWUG ceased to exist around 2000.

The informal distribution method used in the past has left a large question as to the ownership and implied responsibility of the collection. In one sense, the programs have been offered into the public domain, since there was never any attempt at controlling their distribution; in other ways, they remain the property of their authors. The presence of source files for many programs tilts the verdict further toward public ownership, but the question is complex and far from resolved. I believe that individual use and exchange with other users for non-commercial purposes constitutes "fair use" and does not abridge the rights of the authors.
When was this material developed?
Most of the research was conducted in 1987, with supplementary information in 1988 and publication in 1989. Most of the versions tested were compiled prior to release 7.x versions of the Wang OS, and showed some problems when run under early 7-level systems.

In short, this is a "mature" work, and the material may not reflect current conditions.
If all this stuff is so old, why are you publishing it now?
For many reasons:

Many of the tools have remained the same.
Many VS users and their systems have remained the same.
There are an increasing number of new VS users rediscovering the problems that prompted others before them to create these tools.
Many VS users are using older versions anyway.
The nature of the book's material suggested a hypertext solution. (I even started to develop a version once in Wang INFO format. . .)
VS users are dispersed worldwide and isolated; a WWW solution may be the only effective way to reach them.
Will there be new releases of this work?
No. I will continue to make corrections and take suggestions for new material until it begins to interfere with revenue work.
I have a bunch of USERAIDS, but not some of the ones you mention here. What is going on?
This book was written using the items I had available at that time. Some are no longer distributed, and some did not find their way outside the Seattle area. Since the time of my research, there have been two major revisions to the contents of the collection with a net increase of two dozen or more items. Some of the problems mentioned in the book have been resolved, and some of the programs (e.g. CREATE) have been absorbed by Wang.
Some of the USERAIDS I have tried do not work with my system. Why?
There were many problems with older programs when the 7.x Wang operating systems were released. Similar problems appeared when the OS was enhanced to support more devices and a larger number of users for 7.30. Now it appears that the 7.52 OS will reprise this pain!

In spite of the best efforts of Wang, it is now necessary to be sensitive to the version of the operating system you use and its effect on program operation.
Can I get a copy of this book in print form?
No; it is no longer in print. Moreover, there have been improvements in the USERAIDS collection so some of the material is no longer accurate. Nevertheless, there are a large number of VS users out there working with old versions of the collection, so I have released this work in electronic form.
---
Return to First Page
Modified 8/25/2021